St. Mary's News
There are plenty of things happening at St. Mary's School! Click on the links to the left for more information. The newsletter is published and emailed every week. Check your inbox for the most recent newsletter. If you are not receiving the newsletter, we must not have an updated email on file for you. Please update your email contact on your school account.
---
St. Mary's School – St. Mary's Message
June 21, 2019
Pray in the Spirit at all times with all kinds of prayers, asking for everything you need
Ephesians 6:18

How do I live in God's presence? How do I detect his unseen hand on my shoulder and his inaudible voice in my ear?...How can you and I grow familiar with the voice of God? … Before you face the day, face the Father….Spend time with him in silence….conclude your day as you began it: talking to God.
(Adapted from Just Like Jesus)

The staff of St. Mary's School wishes all families a safe and restful summer. May you take some time to relax with friends/family and to enjoy the many blessings that summer brings. May the Holy Spirit's gifts of joy, gratitude and peace be with you over the break. We are thankful for a wonderful year of growth and look forward to an exciting year in the fall.
Blessings,

Staff of St. Mary's School

STAY CONNECTED…
June 24th - Grade 6 Science PAT
Grade 5 Trip to Wetlands
Kindergarten Celebration (Lemieux) 12:45pm
June 25th - Div 2 Track & Field (morning) Div 2 Talent Show (afternoon)
Kindergarten Celebration (Roper) 12:45pm
June 26th - Grade 5 Trip to Wetlands, Grade 6 Trip to Corn Maze, Gr.1 Art Gallery
Div 1 Fun Day (morning) Div 1 Talent Show (afternoon)
Kindergarten Celebration (Edwards) 12:45pm
June 27th - Kindergarten Celebration (Lemieux) 12:45pm
Last Day of School Dismissal 3:13pm
School News
Report Cards – Report cards will be available to view through your Parent Portal by end of day Friday June 27th.
Friday, June 21 is National Indigenous Day! That date, the first day of summer, has been chosen as National Indigenous Peoples Day! In 1996, the Governor General of Canada, Roméo LeBlanc, proclaimed it National Aboriginal Day! It's an opportunity for everyone to celebrate the cultural richness and contributions of First Nations, Inuit, and Métis peoples. In 2017, the Prime Minister announced the day would be renamed National Indigenous Peoples Day. Why June 21? For centuries, many of the first inhabitants would celebrate the arrival of the warm weather and the pleasures of the summer solstice. The summer solstice is the day of the year with the longest light. It is a day with spiritual significance for many people and is a good time to celebrate Indigenous peoples and cultures.

SUMMER READING CHALLENGE
We are once again encouraging students to pick up a book and read over the summer. At St. Mary's School we pride ourselves on being a strong literacy school. We take our role of inspiring a love of reading very seriously! One thing that we notice is that students who do not read over the summer tend to decline in their reading ability. This is known as 'summer slide'. To combat this regression we have created the St. Mary's Summer Reading Challenge. The challenge is to read several books over the summer. We are challenging our students to read more and to read in different spots. Make sure you record your reading for your entry into our prize draws.
To build excitement for this we will be allowing students to enter draws for some exciting prizes. We will advertise the various prizes (eg. book prizes, movie passes & free bowling) over the summer and draw winners in September.
Check out the latest news in CTR Catholic School Division…
Parish & FAITH News
St. James Church (Okotoks) Mass Times - Saturday 5:30 PM; Sunday 7:30 AM; 11:00 AM; 5:30 PM
St. Michaels Church (Black Diamond) – Mass Times 9:00 AM Sunday
Visit https://stjamesparishokotoks.ca/ to see the Bulletin for more information about the many events to participate in!
PARENT COUNCIL News
All Parent Council News and Events are posted on our website
Next Meeting – Wednesday, September 4th @ 6:30pm (babysitting available). Our Parent Council is busy working to create meaningful events for students and families. If you are interested in contributing, please contact us or attend a Council meeting – the first Wednesday of the Month!
Upcoming events:
>Welcome Back Parent Coffee Station (First Day of School)
>Family Coin Carnival and BBQ (September)
>Costume Dance (October)
COMMUNITY News
Pathway closed during construction
June 7, 2019
The public pathway beside the Okotoks operations yard will be closed starting Wednesday, June 12 until approximately Sunday, June 30 while underground work is completed for the ongoing Waste Water Treatment Plant upgrades. This schedule is weather dependent and is subject to change. The affected area includes the path directly behind the EPCOR Environmental Education Centre on North Railway Street, heading south to the junction with the pathway coming west from 32nd Street. The following image indicates the closed area in red.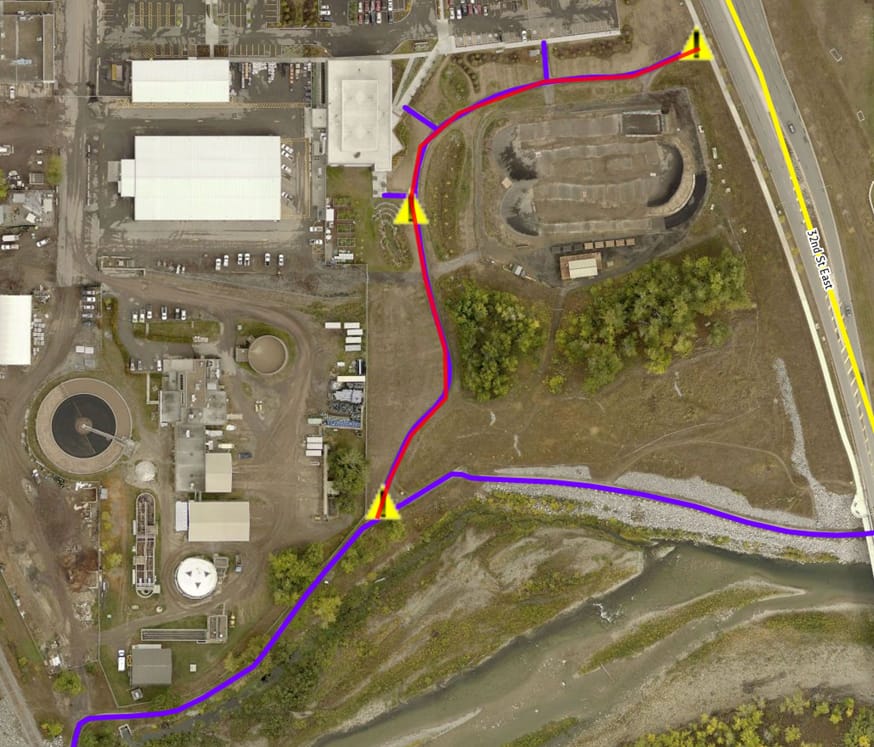 Did you know?



Stay up-to-date by visiting Instagram or Facebook!